Zap away cocaine addiction with lasers! or magnets!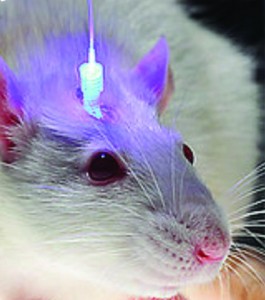 Researchers at the National Institute of Health and UCSF claim to have stopped and started cocaine addiction in rats with the use of laser stimulation to the prefrontal cortex, the brain region where decision making and impulse control take place. "When we turn on a laser light in the prelimbic region of the prefrontal cortex, the compulsive cocaine seeking is gone," said Antonello Bonci, MD, scientific director of the research program at the NIH's National Institute on Drug Abuse (NIDA).
Studies with human subjects are already being designed ,according to Billy Chen, the lead researcher. But lasers wouldn't be used with human participants. Prefrontal cortex stimulation would be achieved through the use of transcranial magnetic stimulation (TMS) which is currently being used as a treatment for depression. It should be noted that the jury is still out on the efficacy of TMS to treat depression, as reported in the journals Current Pharmaceutical Design and Pharmacology and Therapeutics.
This is all very interesting, but addiction is more than biological. People don't become addicted to a drug because of their neuroanatomy and neurochemical environment. It's more complex than that. It seems unclear to me what exactly changes in the prefrontal cortex due to this stimulation. Does it make a person (or a rat) more mature and logical in their decision making process? If that's the case, there may be many uses for this technology! Needless to say, I'm skeptical.
You can read the abstract and view supplemental information about the study in Nature.

Thanks to Jim Wiggins for sharing this article.
Photo credit: Block and Tackle Productions
Related Posts
Often times, the people who I support are attempting to fill a parent-sized...